I'd heard about the Russian market here in Tallinn but it doesn't appear in any of the guidebooks.
What I'd heard about it was that you have to keep your belongings very close to your body. I got someone to point it out to me on the map and headed over there yesterday (sat). It's really grotty and it's like being in a foreign correspondent report about chechnya but they did have some second hand stalls. There was also lots of cheap synthetic trash, some crowded food halls and the stinkiest fish market I've ever been in, I thought I was going to pass out!
So, of course, here are the spoils.
It's an old toy game and the back of it with the picture is made of tin so it'll probably be turned into jewellery, here you can see the stamp of the Russian Federation...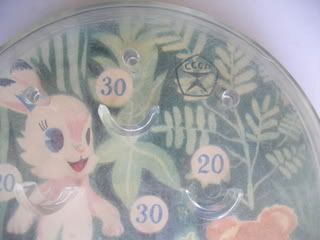 I also found this beautiful toy doll which will be coming back home unadulterated as a present for the knitter. She's about 7cm high and she's got one of those weighted bottoms so she always bounces back upright.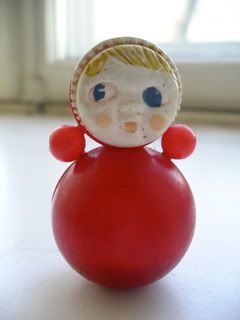 from the same stall I got these fantastic badges. They are made of tin and not plastic coated. My favourite is the blue eskimo. They're already jewellery so it's hard to think about cutting them up to make jewellery but i might just have to.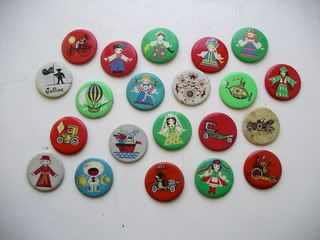 The doll was about $5 and the badges $10 which is cheap but I'm sure I was overcharged as I was a tourist. It's hard to bargain with someone with sores on their mouth and holes in the fingers of their gloves.
I also got this great collection of drink coasters...
again, all made of tin.
So, that's my first garage sailing post from Estonia, hopefully there'll be more. I've also found some great postcards in antique shops but I've sent them before photographing them.
Till next time, Anna